Our team for your efficiency
more than 30 years of logistic services for you Fulfillment and Services for E-shops
We are a renowned provider of comprehensive logistics services. We offer our services not only within CEE, but in connection with logistic networks worldwide.
30 years +
ESA logistika has been successfully providing its services for more than 30 years.
68 %
We are pro-customer oriented, so 68 % of our turnover comes from customers who have worked with us for 10 years or more.
245 000 m²
In a storage capacity of 245,000 m², we find a place for your goods or we can set up a new warehouse for you exactly according to your requirements.
260 vehicles
Our own fleet of 260 vehicles, supplemented by contracted carriers, will safely ensure your transport even in the high season. The high number of vehicles allows us to meet the quality requirements of our clients.

GREEN 3PL
We have created a comprehensive logistics service GREEN 3PL, which generates 47.5% of our turnover. The large portfolio of our customers using this service allows us to increase efficiency based on synergies. Maximum respect for nature is also an important factor and component.
Our goal is to be effective in all areas of our work
We operate in 3 countries in Europe



We also provide logistic services on a global scale in cooperation with the world logistic company LOGISTEED, Ltd., of which we are a part.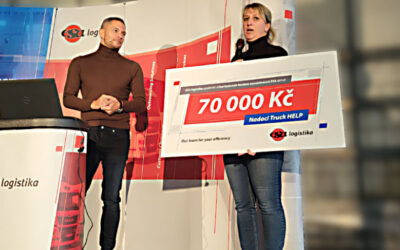 Today, as part of our employee meeting ESA Info, we donated a cheque in the amount of 70 000 CZK to the Truck HELP Foundation. The Director of the Foundation, Tereza Vítová, received it from the hands of the General Director Marek Cvačka on behalf of ESA logistika and...

©2019 ESA logistika
ESA s.r.o.
Oldřichova 158, 
272 03  Kladno